i guess i'm not a failure after all.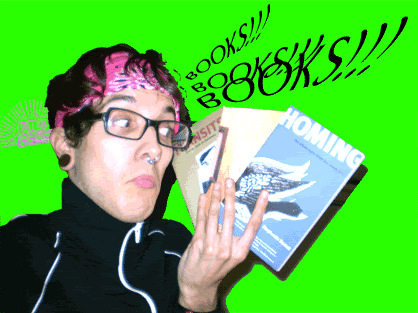 so, um, in case you forgot, i help run a publishing company called INVISIBLE. well, we just released our spring books (which are exceptionally awesome) and are about to go on tour with some authors to launch that shit. if you like books, radness, or just love/miss me, you need to come to one of the following events:

Toronto
12 April
6:30 p.m. Babble (123 Ossington Avenue, Toronto)
8:30 p.m. The Sparrow (92 Ossington Avenue, Toronto)

13 April
7 p.m. Toronto Women's Bookstore (73 Harbord St., Toronto)
**After Party, 9 p.m. @ The Grapefruit Moon (968 Bathurst St., Toronto)**

Montreal
14 April
6 p.m. Co-op Bookstore (2150 Rue Bishop, Mtl.)

i'm taking 15 April off to hang with you MTL friends!!!

Halifax
17 April
6 p.m. Venus Envy (1598 Barrington St., Halifax)
8 p.m. The Khyber Club (1588 Barrington St., Halifax)


i promise not to hold it against you if you can't make it out. you can always check out our books on line @ www.invisiblepublishing.com, visit yer local bookstore or library.
if you want to know more about how we do you can visit the website or check out recent articles about us in Quill and Quire, The Coast, Atlantic Books Today ... i don't know, some other magazines/papers too.